We polished off our final bagels and said farewell to the Josephs, our gracious hosts, before starting one of our trickiest drives of tour. We're so grateful to them and to everyone who's hosted us over the course of tour — without them, we genuinely would not be able to do this.
Today's destination was New York City. This was a particularly exciting stop for one of our hosts in Lexington, who told us that she'd visited before and loved seeing the Eiffel Tower. We told her we were pretty sure that was in Paris, not New York. "Oh," she said. "Who's that green bitch?"
The Statue of Liberty, as the world-famous landmark is sometimes known, welcomed us to the Big Apple just after lunchtime. We parked Felix Vandem at McCarren Park near the night's venue and spent the next half hour wandering through some shops as Max told us a bit about growing up in New York. I'd visited the city a few times but mostly spent time in Manhattan, so visiting Brooklyn was a lot of fun. We even got to bike around the borough, which is one of my favorite things to do in the world. Shout-out to protected bike lanes!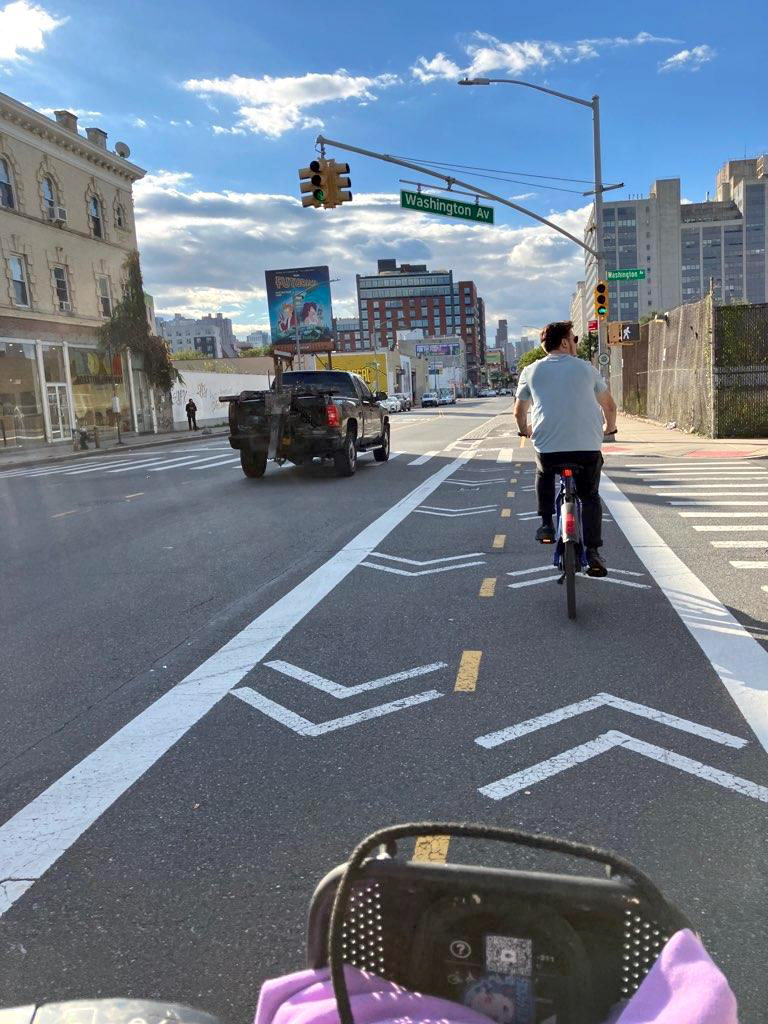 We took a late lunch at the Korean restaurant
Bulbap Grill
and had yet another solid meal. I ate a Jae Yuk spicy pork bowl, while Max and Sean each got a Dol Sot stone pot. It was Sean's first time eating Korean food as well as his first time in New York, and he seemed to enjoy both experiences. He deserved it: Driving in New York is very tough, and we're very appreciative to him for taking on the challenge.
Tonight's performance was part of a
sold out
Sofar Sounds
showcase at
Silver Light Tavern
. I wasn't familiar with this organization before tour, but they have a footprint in 400 cities worldwide and invite audiences to smaller shows where they don't know the lineup until they walk through the door. It seems like a fun way for a music lover get plugged into their local scene, even if they don't really know where to start.
Speaking of which, we didn't know much about our opener,
ByMaddz
— aka Thick Grandma — until she and her band kicked off the evening with a collection of moody, jazzy tunes well-suited to our candlelit environs. We went second and once again played a more stripped down five-song set led off with our new song
Fckn Chngs
, which you can stream later tonight! It was a special treat to play for many of Max's friends, including
Marcus Dembinski
, who produced Felix Tandem's debut EP,
Okey Dokey
. You can also stream this EP at your leisure.
We've gotten pretty good at loading up our gear post-show, so we made a speedy getaway toward the Upper West Side and settled into Max's cousin's apartment just in time to see a win from the official MLB franchise of tour, the Philadelphia Phillies. Looking back, I'm surprised by how breezy and laidback our day in one of the world's busiest cities felt, but it's hard to complain when you also get to do so many fun things while you're there. We'll be back Friday for a very special set at a historic rock club.