Friday marked the spiritual end of our
Guitar Hero III
career, only instead of playing against the devil in the fiery pits of hell, we were set to play the historic
Bitter End
rock club in
Manhattan
. This was a big one. The club is where artists like Bob Dylan and Joni Mitchell got their starts, and on top of that, the author of all of our travel brochures was set to be in attendance. That's right: My girlfriend Serena was flying up to see us and visit some friends in the city!
We did not have the luxury of flying. In fact, our drive from Massachusetts was our least pleasant of tour, marked by traffic, carsickness, and a level of gloom and rain that was almost cartoonish. Nevertheless, we arrived in Manhattan in the mid-afternoon with plenty of time to load into the venue. There we met
Solomon Foster
and
Marcus Dembinski
, who would be playing our opening slot after Alyssa informed us she had not recovered well enough to play tonight. This was a huge bummer, as we really wanted to play this show with Alyssa, but we're grateful to Solomon and Marcus for filling in on such short notice. Regular readers will recognize Marcus as the person who mixes Felix Tandem's recordings, and to show our gratitude for all he does for the band, we really wanted to show out for this last performance.
We had a smooth soundcheck, which always brings confidence ahead of a big show. After admiring all the names of acts who'd played at this club and getting a snack at
Wicked Willy's
next door, I got another shot of inspiration when Serena arrived a few minutes later with her friend Tori. I have missed her a lot and am excited for us to be back home soon! The three of us settled in to listen to Solomon's set of folky tunes underscored by Marcus' electronic production and piano playing.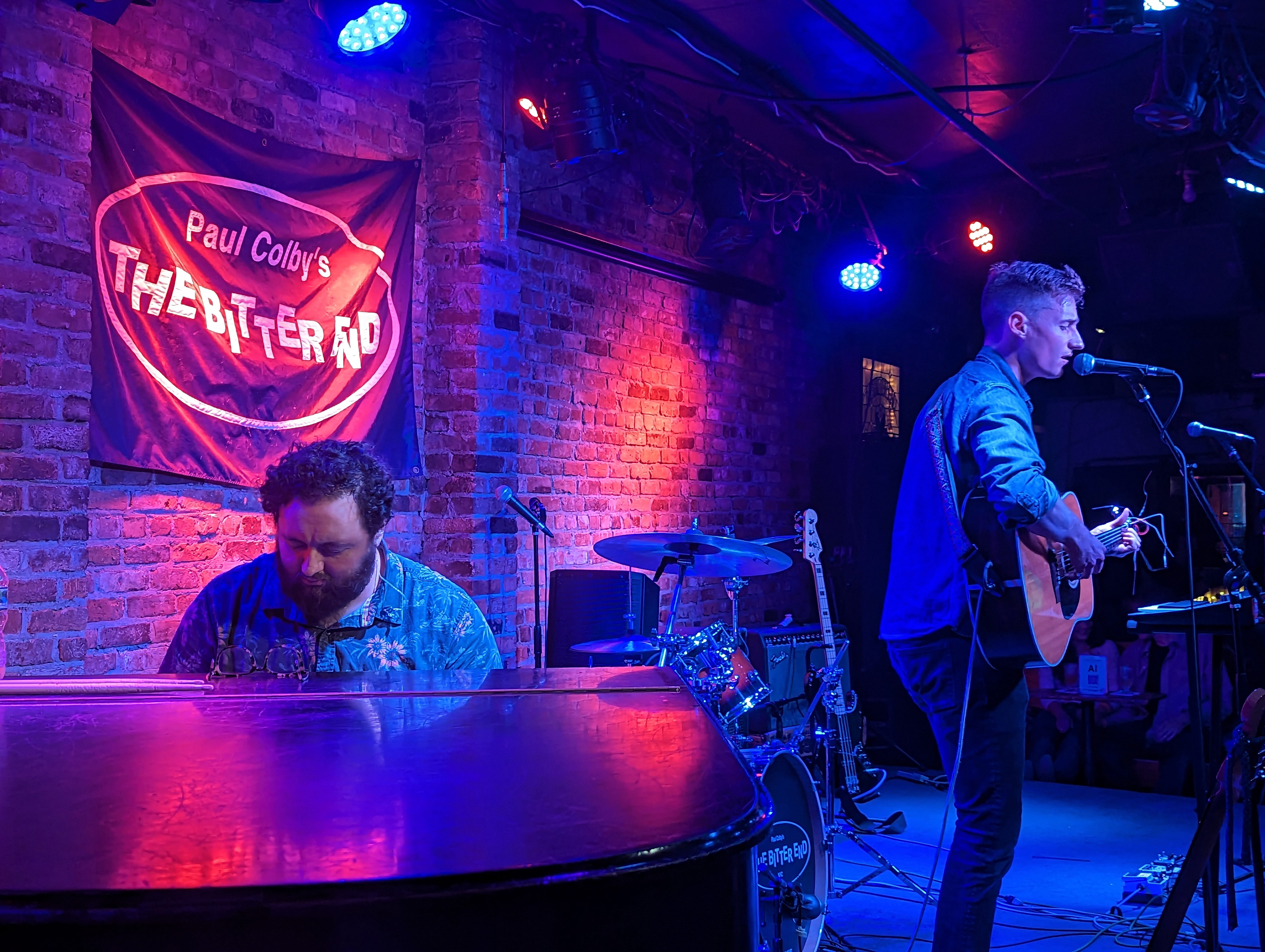 Then it was our turn. We hit the stage and once again played our full set, and we realized pretty early that it was a lively crowd. Having so many folks we knew in attendance certainly helped, but there was a good number of people we didn't recognize who must have just wandered in looking for a rock show.
I think we delivered. It was a tight set with a ton of energy, and since it was our last big show, I decided to embrace the fact that I have A Funny Way About Me Onstage and really jump around to try and convert the random attendees into members of the Felix Fandom. I won at least two over: The couple sitting at the table nearest me by the stage told me after the show that they were Vanderbilt University students, and they seemed to have a great time. I hope to see them at a show closer to home soon!
It's hard to pick a standout moment from the set, but there was at least one moment where I thought, "Wow, I'm in a band playing in New York!" and felt like my thirteen-year-old self would have been very impressed. There was another moment where I thought, "Wow, the sound guy made my bass sound really good!" and then I immediately messed up the next bass part, so I suppose it pays to stay humble.
We sold a decent amount of merch after the show and quickly packed up the Felix Vandem. One extremely cool looking guy with a hat and a scarf picked up a T-shirt based solely on the fact that he is a big fan of Felix the Cat, who features in our newest batch of merch. "I'll wear it in good health," he said, "and when people ask me what it's about... I'll tell them."
We headed to
Tacombi
for tacos and margaritas, then I split off to walk around a bit with Tori and Serena. I've only ever been to Manhattan on field trips and with family as a child, so it felt nice to not just be shepherded around from tourist attraction to tourist attraction. I can see the appeal of the city a bit more clearly now.
I hung out with Tori and Serena for a bit before heading toward Marcus' place uptown. After missing the train that would have gotten me there the most efficiently — how was I supposed to know it would actually show up on time? — I decided to take a more scenic route and visit the king of tourist traps:
Times Square
. It's where
The New York Times
was based! It's near the Broadway theaters where I saw
Aladdin
and
Les Misérables
! It has people wandering around wearing Krispy Kreme hats, which makes me laugh because that is a North Carolina based company! I took a photo and spent a whopping eight minutes there before deciding to forget about it and take the 1 Line home. I arrived in time for about an hour's worth of hanging out before getting one last sleep.
We've finished off our big ticketed shows, but we've still got one last hurrah at a house show in Washington, D.C. as well as a welcome home show in Nashville. Come see us!